Subject to the quite critical constructive necessity (infeed of dirty bottles below the clean bottle output) with
single-end machines
HEIN has undertaken special development efforts in this respect.
In the application of the SPECIAL version (European patent) the clean bottles area is separated from the dirty bottle infeed below (see system drawing).
Thus, besides the excellent noise level reduction a significant contribution to the prevention of (re)-infection of the discharged clean bottles is achieved in addition!
The great advantage was not only recognised by a well-known machine manufacturer, but also by users, and therefore, this system is especially popular with the application of critical products, if for other reasons double-end machines are dispensed of.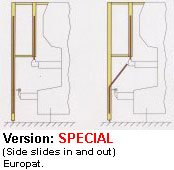 Antiseptic installations (head room disinfection) could provide the safe prevention of reinfection of the clean containers - from the last flush to the discharge - in the critical area inside the cleaning machines.